July 12 – 22, 2021
11 Days & 10 Nights
Sightseeing Highlights
Yellowstone National Park
Mt. Rushmore National Memorial
Grand Tetons
Devils Tower
Crazy Horse Memorial
Craters of the Moon National Monument
Wall Drug Store
Chimney Rock National Historic Site
Scotts Bluff National Monument
Old Faithful
Park City, Utah
Itinerary
We start our tour on a luxurious motorcoach crossing over the California border into Nevada. You can sit back and relax as we make our way to Elko, NV; making a few stops along the way.
After breakfast we will travel through Twin Falls, Idaho following along the Snake River. We will then travel to Craters of the Moon National Monument, a preserve with unique and unusual formations of molten lava fields formed nearly 15 million years ago and it is the only monument in Idaho. We will finish the day in Jackson, WY.
This morning we will follow the Snake River as we pass the Grand Tetons with stops along the way to take pictures of this magnificent mountain range. Then we will visit Yellowstone's West Thumb Geyser Basin which is a very picturesque geothermal spot. After, we will visit Old Faithful Geyser. This geyser is famous throughout the world and guarantees a timely eruption. We will then drive to West Yellowstone, MT and stay two nights.
Today we re-enter Yellowstone National Park to visit Mammoth Terrace Tower Falls and the Grand Canyon of the Yellowstone and see Old Faithful one last time. Then we will be able to relax and enjoy dinner this evening.
Today we will visit Norris Geyser Basin located in Yellowstone Park. It can burst up to 300 feet in the air and is the tallest steamboat geyser. It may or may not spout during our visit. We will then make a short stop at the Norris Geyser Basin Museum, then continue our journey until we reach our overnight destination, Sheridan, WY.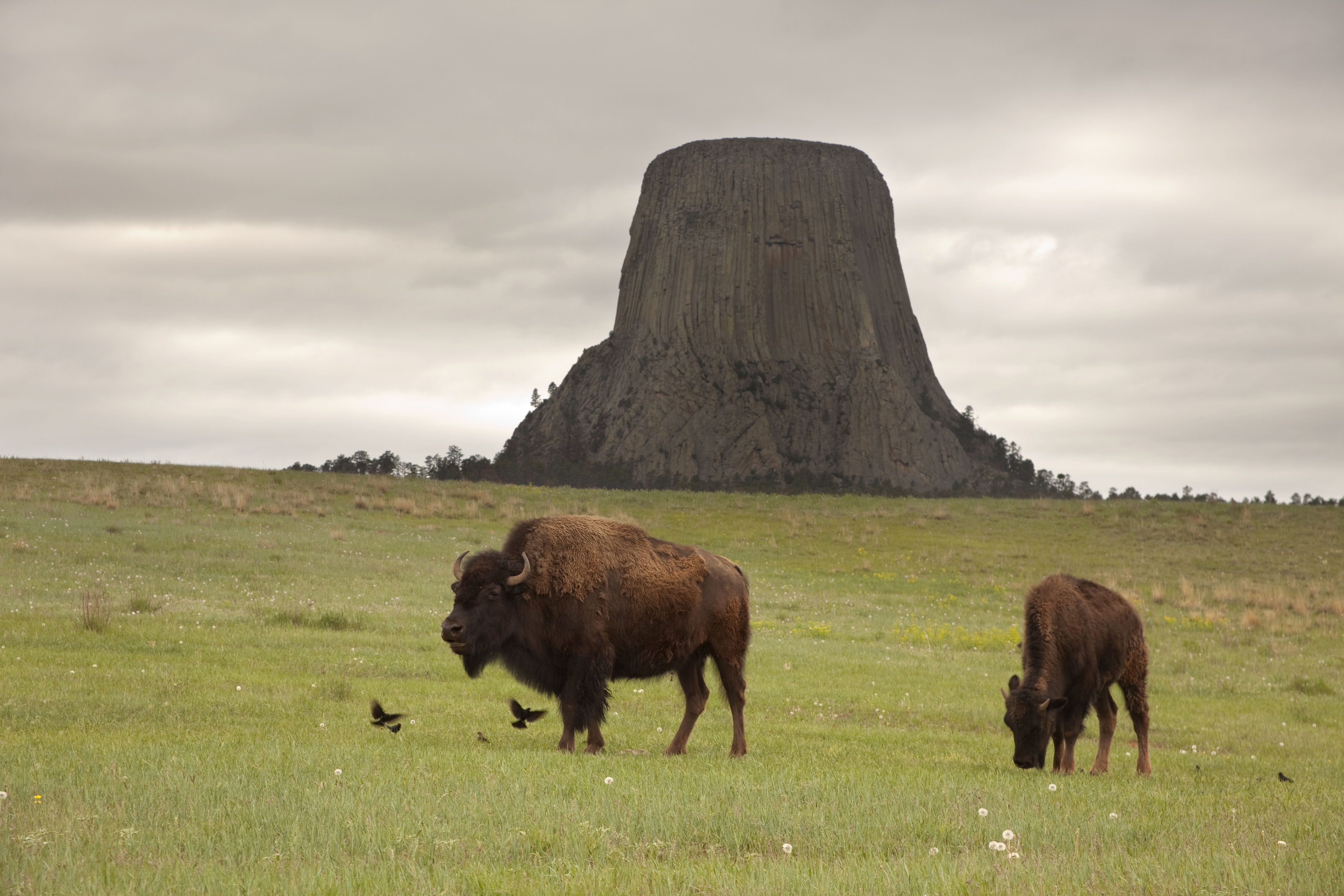 Before our two night stay in Keystone, MT, we will experience the wonder of the Devil's Tower. Geologists say it is likely an igneous intrusion, meaning it was formed underground from molten rock, or magma, and was pushed up from the earth to form this tall tower.
This morning we visit Mt. Rushmore. This monument is a tribute to our country. It represents the founding of the Union, the Declaration of Independence, and the Louisiana Purchase. We will see the majestic sculpture of four of our presidents: George Washington, Thomas Jefferson, Theodore Roosevelt, and Abraham Lincoln. We then continue to the Wall Drug Store, located in South Dakota.  This drug store is world-famous as it is home to an 80 foot Brontosaurus sculpture and the area has other western themed stores, restaurants, and an art gallery. We then move on to the Badland National Park with sights of sharply eroded buttes, pinnacles, spires, and one of the largest prairies in the United States. This evening we will visit the Crazy Horse Memorial to enjoy a special night-time laser light show.
After breakfast we depart for Chimney Rock National Historic Site. This site is a geological rock formation in western Nebraska. It reaches 4,226 feet above sea level and during the middle of the 19th century it was a landmark along the Oregon Trail. It is visible for miles along US 26. Next, we drive to Scotts Bluff National Monument. This monument towers over 800 feet above the North Platte River and served as a landmark for the Native Americans emigrating west. Tonight, we will stay in Cheyenne, WY.
Today we travel along Highway 80 into Little America for lunch (on our own). Our next destination is Park City, Utah, known for winter activities such as cross-country skiing and snowboarding. (Winter Olympics, 2002) We will stay the night here.
Our last destination is Wendover, Nevada, where we will stay the night to get the full experience. We will arrive in the afternoon and have fun in the casino, relax by the pool, and check out all the awesome shops.
We will be traveling home today while reminiscing about all the wonders, both natural and man-made, we experienced on our journey.
GENERAL INFORMATIONMANAGEMENT RESPONSIBILITY – Friendly Excursions, authorized agents, or tour leaders for groups act solely as agents of the tour members in making arrangements for hotels, transportation, or any tour related services and do not assume any liability whatsoever for any injury, damage, death, loss, accident, or delay to person or property due to an act of default of any hotel, carrier, or company or person rendering any of the services included in the tour.  Further, no responsibilities are accepted for any damage or delay due to sickness, pilferage, labor disputes, machinery breakdown, quarantine, government, restraints, weather or other causes beyond the control of Friendly Excursions.  No responsibility is accepted for any additional expense, omissions, delays, re-routing, or acts of government.  Friendly Excursions cannot be held responsible for baggage damage, loss of personal property, possessions, or money.  The right is reserved to refuse to retain any member of the group should circumstances so demand, and if such action is for benefit of the tour.  The airlines or transportation companies involved are not responsible for any act, omission, or event during the time the passengers are not on board their planes or conveyances. The passengers' contract in use by the carrier concerned, when issued shall
constitute the sole contract between the carrier and the passenger.  Tour members are held responsible for being in sufficient good health to undertake the tour.
INSURANCE PACKAGE is available for Trip Cancellation, Accident, Life, and Luggage coverage during the tour, and is strongly
recommended.
DEPOSIT:  $200.00 per person due to hold your reservation.
FINAL PAYMENT: Due on May 23, 2021.   CANCELLATION:  After May 23, 2021 no refund will be given.