Looking for a great group day trip to take from San Francisco? Why not head to Silicon Valley? Silicon Valley contains an incredible number of tech companies that made amazing innovations which have completely changed the world that we live in today! This area has something for every type of visitor; thrill-seekers, art and music enthusiasts, tech junkies, and culture aficionados.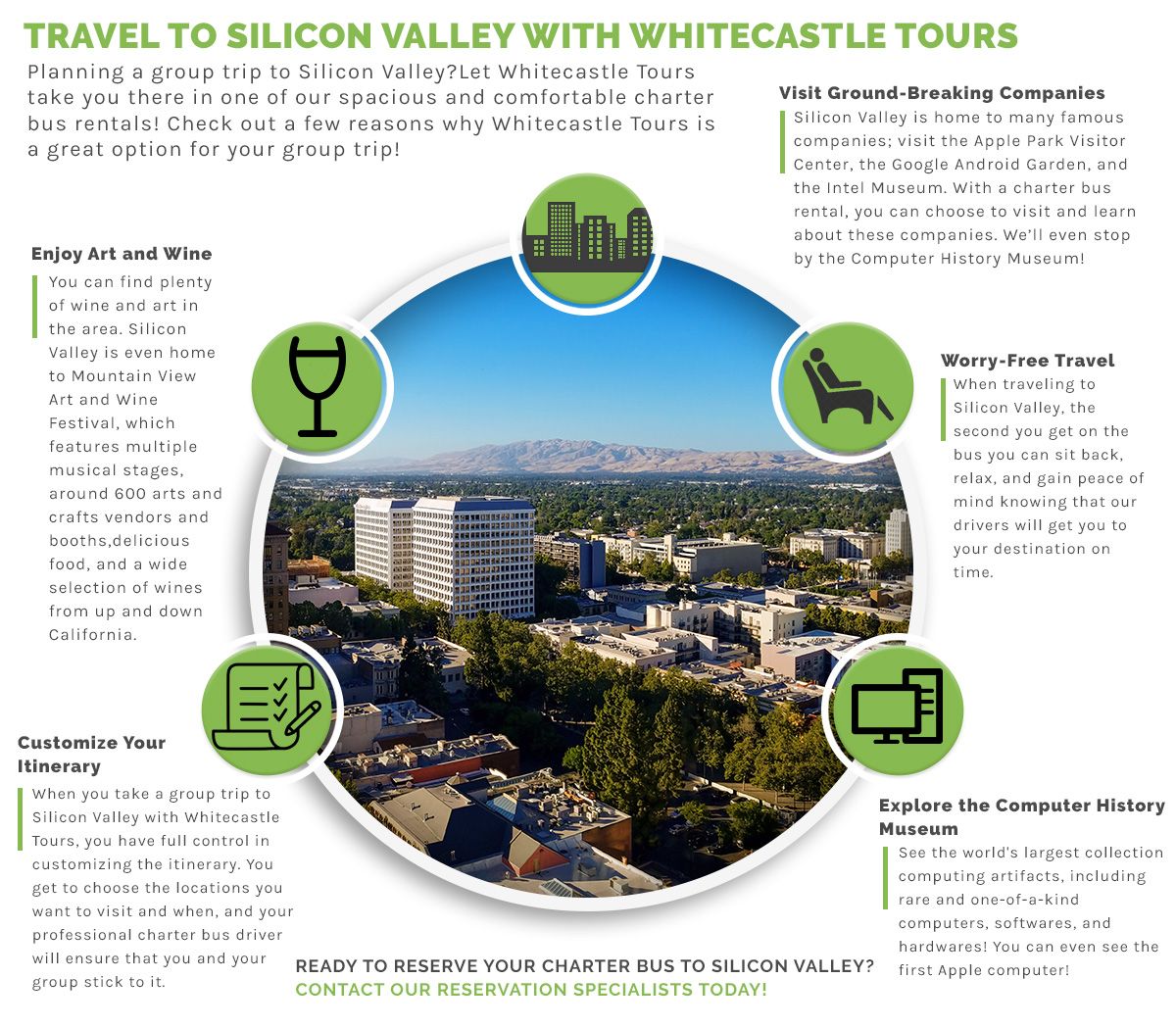 Reasons To Take A Bus Trip To Silicon Valley With WhiteCastle Tours
If you are planning a group trip to Silicon Valley, there is no better way to get there than with a charter bus rental from WhiteCastle Tours! Let's review some of the reasons why you should take a bus trip to Silicon Valley with our charter bus company!
Worry-Free Travel
When you take a group trip to Silicon Valley on a charter bus, you have the luxury of traveling in comfort. From the second you step on the coach, you can sit back, relax, and gain peace of mind knowing that our drivers will get you to your destinations on time. We'll ensure everything stays on schedule so you don't have to!
Visit Ground-Breaking Companies
Silicon Valley is most known for its astounding number of companies that have created amazing innovations over the years. See the headquarters of Google, Apple, Tesla, LinkedIn, and more! You can even visit the residential garages where Apple and Hewlett-Packard got their start. Do you have technology lovers in your group? Stop by the Ames Research Center, Tech Museum of Innovation, or the Intel Museum!
Explore the Computer History Museum
The Computer History Museum in Mountain View displays the world's largest collection of computing artifacts. Exhibits include rare and one-of-a-kind computers, as well as photographs and films that document the history of computer technology. You can even see the first-ever Apple computer!
Enjoy Art and Wine
Art and wine enthusiasts unite! Silicon Valley is home to Mountain View's Art and Wine Festival. This festival began as a fundraiser by the Chamber of Commerce to help raise funds for local programs. The Art and Wine Festival features multiple musical stages, around 600 arts and crafts vendors and booths, a wide selection of wines from up and down California, as well as multiple food vendors offering a perfect pairing for your wine.
Customize Your Itinerary
When you take a group trip to Silicon Valley, you have full control in customizing the itinerary. You get to choose the locations you want to visit and when, and your professional charter bus driver will ensure that you and your group stick to it. Of course, our drivers are happy to recommend attractions and other destinations to visit.
Why Choose Whitecastle Tours
Wherever you want to go in Silicon Valley, our charter bus services will get you and your group there. Our charter buses are clean, comfortable, and equipped with WIFI. You can relax and enjoy your trip while in our reclining seats and footrests. Our trained, professional charter bus drivers will ensure you reach your destinations safely while offering exceptional service. To book your private bus tour from San Francisco to Silicon Valley, contact one of our charter bus reservation specialists today!