Have an itch to go on a ski trip this time of year? Luckily Whitecastle Tours will be heading to the slopes, taking ski groups to some of the best California ski resorts. We know that winters in San Francisco can be soggy, so book one of our charter ski bus rentals for some snowy fun on your group ski trip.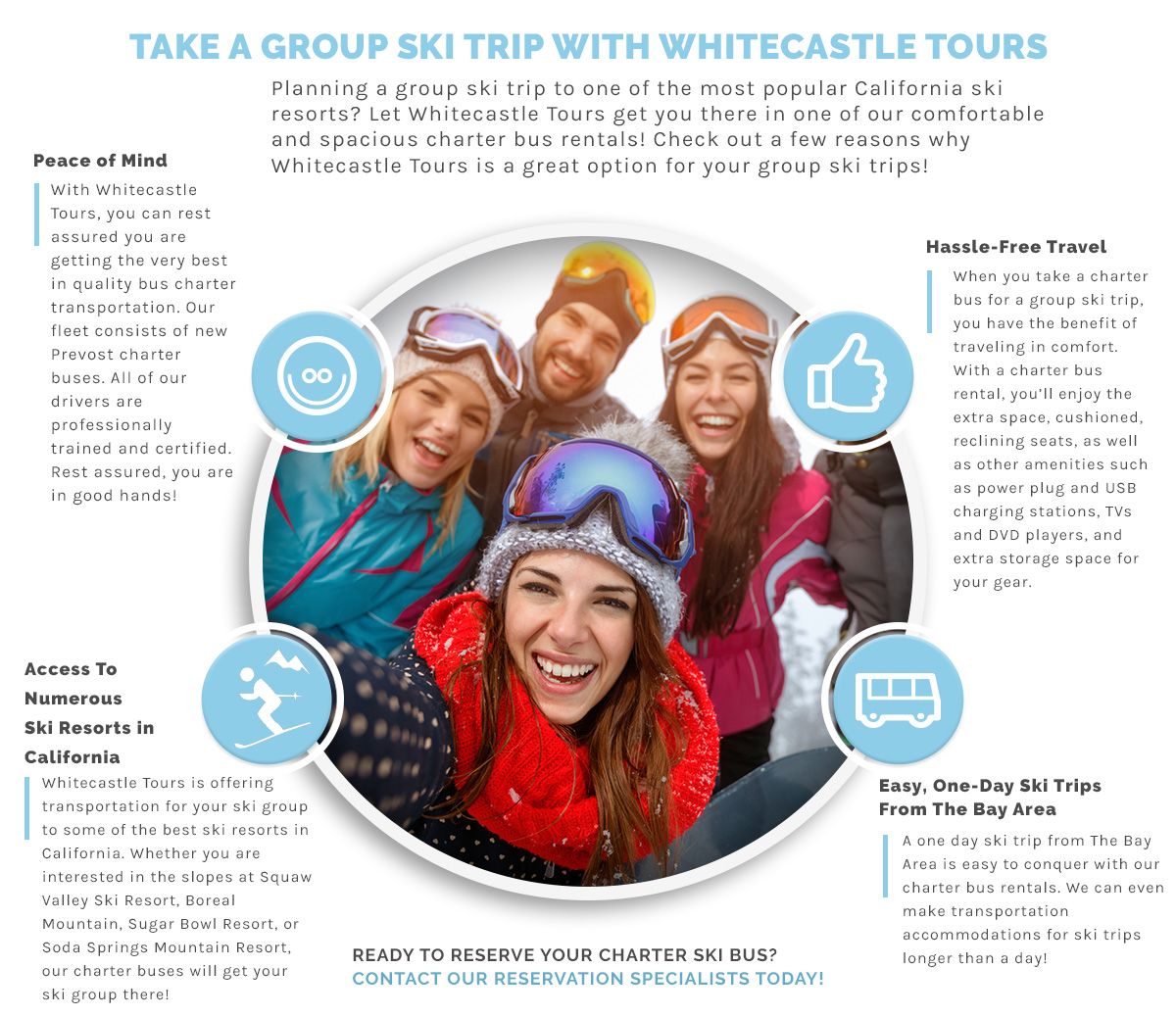 Reasons To Choose Whitecastle Tours For Your Group Ski Trip
Skiing is a great way to connect with friends and family and release the stress of weeks of hard work and a mundane schedule. However, anyone who has ever attempted to plan a trip for a large group of people knows what a nightmare transportation can be. Everyone driving personal vehicles is not only a waste of gasoline, but it also makes it challenging to coordinate your trip, plan for stops and make sure everyone stays safe.
Our group ski trips bus packages can help you take a break with some excitement on the slopes.
Access To Numerous Ski Resorts in California
This ski season, Whitecastle Tours is offering group transportation to some of the best ski resorts in California. Whether you want to experience Lake Tahoe skiing and head to Squaw Valley Ski Resort, or want to try conquering the slopes at Boreal Mountain, the Sugar Bowl Resort, or Soda Springs Mountain Resort, our charter buses will get your ski group there!
Hassle-Free Travel
When you take a charter bus for a group ski trip, you have the benefit of traveling in comfort. Nobody wants to sit in a crowded car for hours before doing a strenuous activity such as skiing and snowboarding. With a charter bus rental, you'll enjoy the extra space, cushioned, reclining seats, as well as other amenities such as power plug and USB charging stations, TVs and DVD players, and extra storage space.
Easy, One-Day Ski Trips From The Bay Area
Whitecastle Tours makes it easier than ever to conquer single day ski trips in California. We can plan an itinerary to ensure you and your group get the most out of your ski trip. Want to extend your trip longer than one day? No problem! We can accommodate transportation for trips that are multiple days!
Peace of Mind
When you travel with Whitecastle Tours you can rest assured you are getting the very best in quality bus charter transportation. Our fleet consists of new Prevost charter buses and other charter vehicles. All of our drivers are professionally trained and certified. They'll get you to your ski trip destination with a smile on your face, ready to hit the slopes! Rest assured, you are in good hands!
You can't go wrong when you book your group ski trip with Whitecastle Tours. Our charter bus fleet is made up of quality charter buses, motorcoaches, executive shuttles. When you book your California ski trip with us you'll see that our vehicles really are second to none. We have vehicles to suit every group, from small groups to the largest groups and for all types of ski outings. Contact us today to receive a free quote.
Ski Trip Pricing
Whitecastle Tours strives to offer affordable skip bus trips to the best ski resorts near San Francisco, including Boreal Mountain California, Squaw Valley Ski Resort, Sugar Bowl Resort, and Soda Springs Mountain Resort.
Ski Bus Trip Projected Charge: Around $2200 per day.
Holds up to 56 passengers.
Ideal Pick-up time: Between 5am and 8am
Ideal Departure back to The Bay Area: